Dec. 15th, 2012 at 12:06 AM

gishkishenh
WHO:
Legal Name: [censored]
Alias: "Beth Brookins", "Ravynwolf", "Southpaw art"
Business name: Advanced Deployment


WHERE:
Dominantly via e-mail and facebook.
On-line website: http://www.advanceddeployment.com/

WHAT: Laser cutting services in wood and acrylics.

WHEN: Oct 12- Present

PROOF: Please see Explanation for full proof. LONG list of e-mails and correspondences.
Please see below, Paypal payment on Nov 19th:





EXPLAIN:
Earliest contact was Jul 8th. I had been inquiring about her Laser services for some time [cost, etc]. I had 2 items done up in August 27th, and told her to open a tab for me [I foresaw more on the way].

Oct12- Nov5 :
Everything goes smoothly. Our correspondences contain the usual me sending designs, her cutting them and sending me previews. After I collected the pre-orders, I had sent her an e-mail in regard to how fast we could get the entire sum cut. I was keeping in mind the fact that her schedule would become hectic from Black Friday and onwards. I kept this in account, because I didn't want to stress her out [I know the feeling] and suggested a good compromise; I'd get all the work to her in time for her to cut it all up, and give her 1 week so that she could prepare for the Black Friday [I can post all this correspondence, but it really doesn't imply any wrong doings, and it's 20 e-mails of just us talking technical. If need be, I can easily post it].

Here are the links to the pre-order posts I made with HER photos [so this prooves these thigns were actually made]:

Nov 3rd:
http://fav.me/d5jwygj

Nov 5th:
http://fav.me/d5k8wmw

Nov 5th:
http://fav.me/d5k8xj9


Now this is where things began to become sketchy. On Nov 12-14, we are simply working out the details of the bill- counting cuts etc. It's all good, no conflicts, things are a-ok.

A week later, I get billed. Nov 19. I even inquire that she included ALL the previous cuts [when she opened my tab].
I paid the same day, and awaited the package. [Same link as Proof]:
http://i8.photobucket.com/albums/a23/Gishkishenh/Artist Beware/proof_zpsf9d35a28.jpg

A week later, I had arrived home [I was tending to my sister, so left town for a week] and no sign of the package. On Nov 27th, I sent her the following e-mail, and her response above:

2 days pass, and on Nov 29th, since I hadn't heard a thing from her, I emailed her wondering if there was any movement on the situation... her response above:

A little while later, this was the e-mail I got, and my responce:

This is where ALL contact stops. Days go by, and on the 4th of Dec I sent her a little reminder:

No answer. I waited 2 days [Dec 6th], and sent her another e-mail:

Still no word.
Now, I'm wondering what is going on. I feared that maybe she had an accident, so I go to facebook to see if she posted anything [we friended one another there]. When I did, I found that I was un-friended, and she had been active on the days I had sent her my e-mails [I can post pics of this, but Facebooks is a little more personal, so I don't know if that oversteps boundaries?]


I sent her one last e-mail: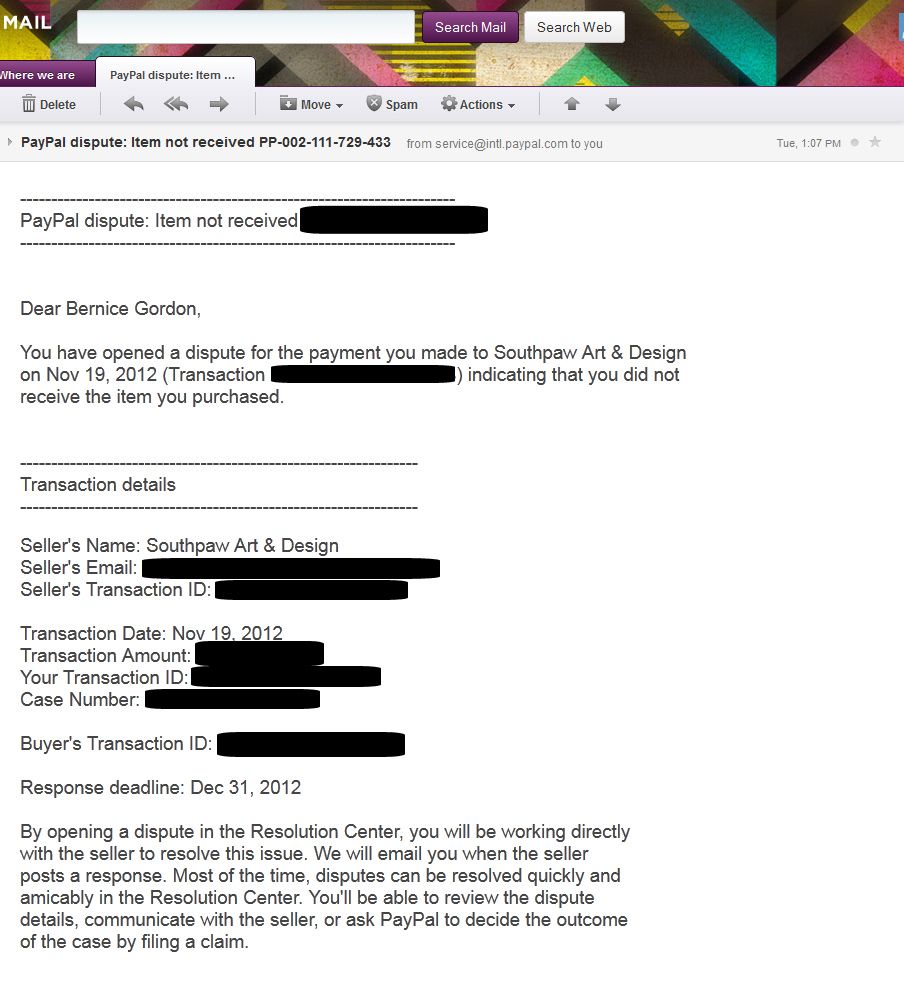 Now I was a little upset. The package was overdue by 2 weeks. I live in Vancouver BC, she in Bellingham WA... normally, a week would have sufficed. 2 weeks, if it was considered "international" air mail [even thought we are so close]. I had also been waiting on this package for a seasonal convention that I could sell the merchandise in order to get seasonal funds for myself. The package never came until this day. She did not even contact me, until this day.

I opened a Paypal Item Dispute on Dec 11:
http://i8.photobucket.com/albums/a23/Gishkishenh/Artist Beware/paypalclaim_zps64bf62f2.jpg

Still no answer from her. No movement.
My ultimate fear is that this entire ordeal was to trick me for the vector designs of my art. Last year, she had contacted me in regards to selling a similar content and product, and asked me if I would like to contribute the same design content [North West Pacific First Nations style art].

I'll be updating with the Paypal Claim judgements, and any other movements on the subject. If she responds to me [finally] or not.

EDIT
On Friday Dec 14th, I had received the package. nearly a month after it was supposed to be sent, the date on the package reads "Nov 28th" as the shipping date [pics to come].
So my conclusion was that after the Nov 27th e-mail exchange where she lied about the stepped-on receipt... she put the package into the mail the following day. Rather than come clean about forgotten the package [which would have been a-ok with me- I KNEW she had a hectic Black Friday], she opted to lie and disconnected any communication from me.

To this day I still have had no contact from her.